Shopping Cart
Your Cart is Empty
There was an error with PayPal
Click here to try again
Thank you for your business!
You should be receiving an order confirmation from Paypal shortly.
Exit Shopping Cart
Purchase book on Zoetically Me Poetry, Amazon, Kindle, Barnes and Noble, Books A Million etc.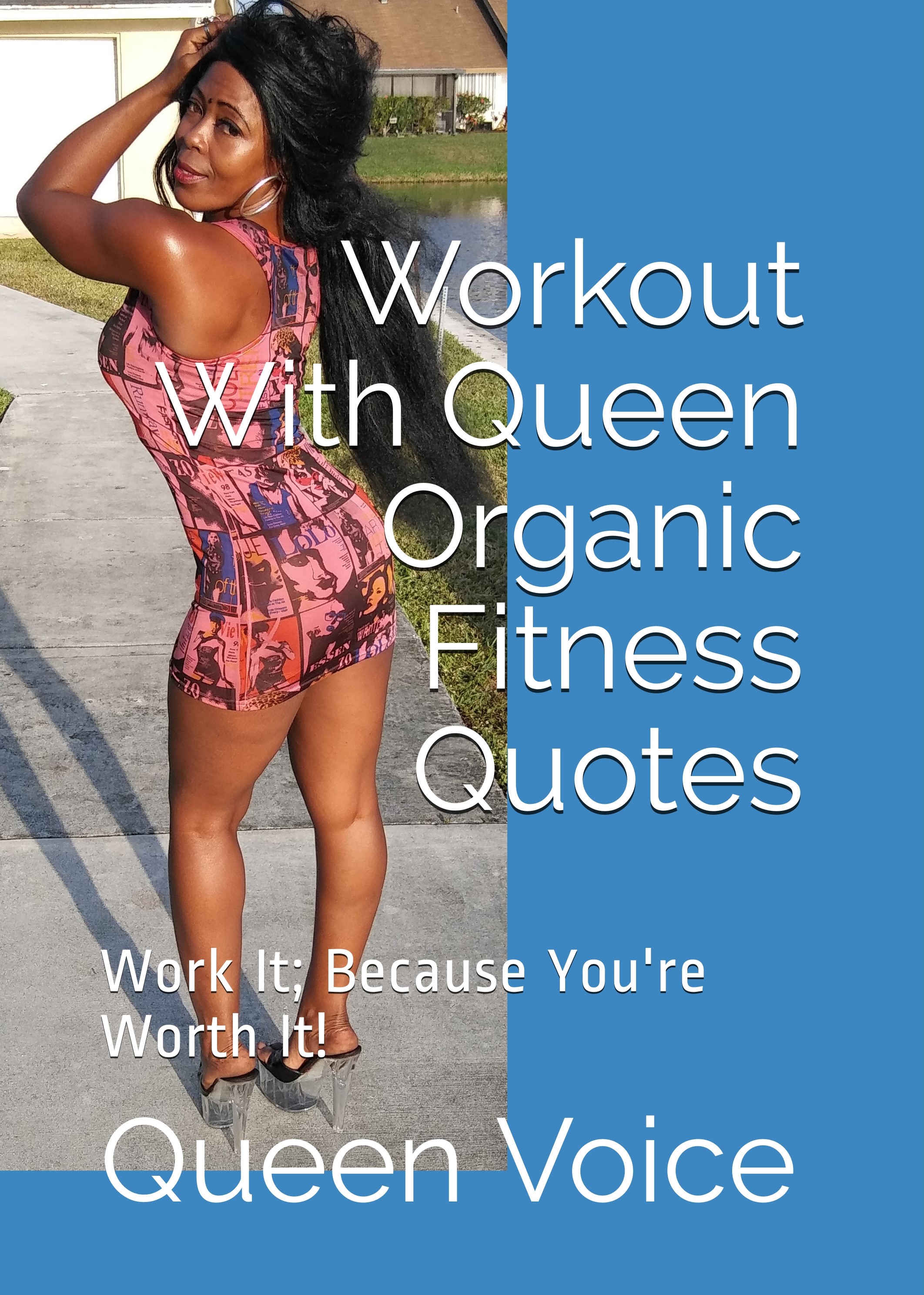 WORKOUT WITH QUEEN ORGANIC FITNESS QUOTES (BOOK)
WRITTEN BY: QUEEN VOICE
PUBLISHED ON SEPT, 10th 2019 (AMAZON)
3 BOOK COVERS TO CHOOSE FROM, 1 AVAILABLE NOW!
(COLOR)
(QUOTES ACCOMMODATES WOMEN AND MEN)
200 POETIC ORGANIC PHYSICAL FITNESS QUOTES; THAT ARE MOTIVATIONAL, INSPIRATIONAL, UPLIFTING, AND HUMOROUS.
(CERTIFIED PHYSICAL FITNESS TRAINER, NUTRITIONIST AND HEALTH CONSULTANT, BEAUTY SPECIALIST, AND AUTHOR)
AVAILABLE NOW! WORLD-WIDE, HERE IN OUR WEB-STORE, AMAZON, GOOGLE BOOKS, BARNES AND NOBLES, BOOKS A MILLION, PINTEREST, BOOKTOPIA, ETC.

1. "GO TO THE GYM, GET FIT, GET LIT, DON'T QUIT."
2. "HARD WORK PAYS OFF, HOW MUCH DO YOU WANT TO MAKE."
3. "THE ONLY THING I WANT EXTRA-SIZED IS THE MOTIVATION TO GO EXERCISE."
4. "TODAY OUT THINK YOUR WORKOUT, DON'T SAY YOU'RE GOING TO WORKOUT, JUST GO."
5. "YOU CAN'T HAVE EXTRA FRIES AND EXERCISE; YOU GOT TO CHOOSE."
6. "WARNING, EXERCISE MAY CAUSE WEIGHT LOSS, PHYSICAL FITNESS, AND GOOD HEALTH."
7. "WORKOUT UNTIL YOUR MUSCLES BECOME YOUR HUSTLE."
8. "MAKE YOUR WORKOUT A HABIT, THEN EVERY DAY, YOU WILL LOOK FORWARD TO IT HAPPENING."
9. "THE DIFFERENCE BETWEEN WHERE YOU'RE AT AND WHERE YOU WANT TO BE IS HOW BAD YOU WANT TO GET THERE."
10. "YOU ARE YOUR BIGGEST SUPPORTER; HOW MUCH ARE YOU WILLING TO DONATE INTO YOURSELF."
Enjoy 550 illustrated poetic organic quotes that are guaranteed to keep your mind afloat.
A quote book in a class of its own.
This book covers many topics on just about everything.
"Words have power and can be perceived in different ways to motivate, uplift, inspire and challenge your mind to think a little higher."
There's a quote in here for everyone, all composed by Queen Voice.
These poetic organic quotes are:
Personal metaphorical symbolic and emotional
Simple romantic humorous and dramatic
Scientific optimistic realistic and artistic
Motivational educational illustrational and inspirational
Although the world has many squirrels that eat nuts from different trees, there's a great taste that forms the face when it's your seed that you believe.
Quotes are amazing and are used in every way imaginable in our daily life, here are a few more to add to the pie.
You will be inspired and watch your innermost passion become wired.
Bonus (Poem)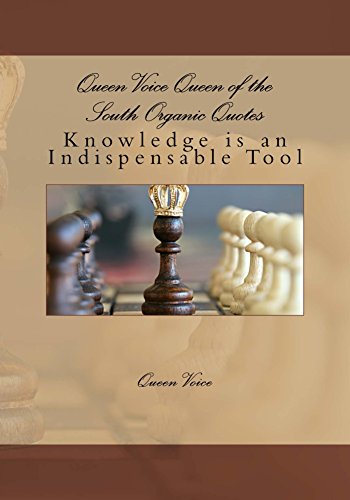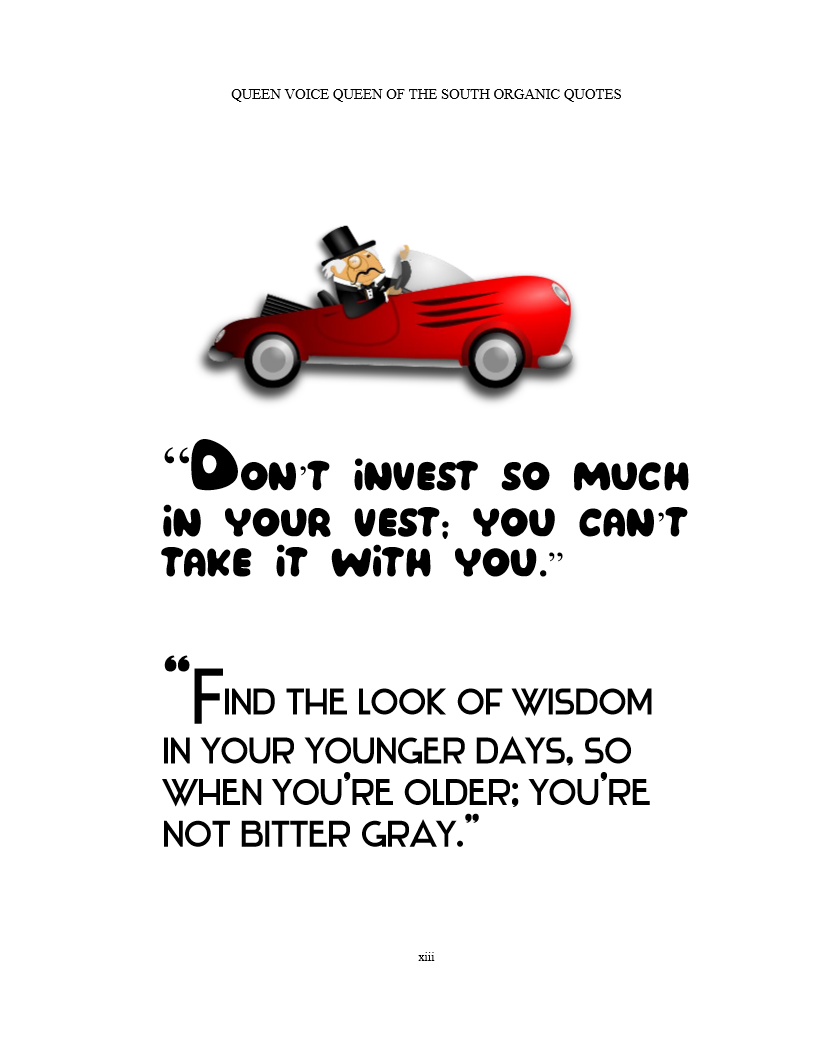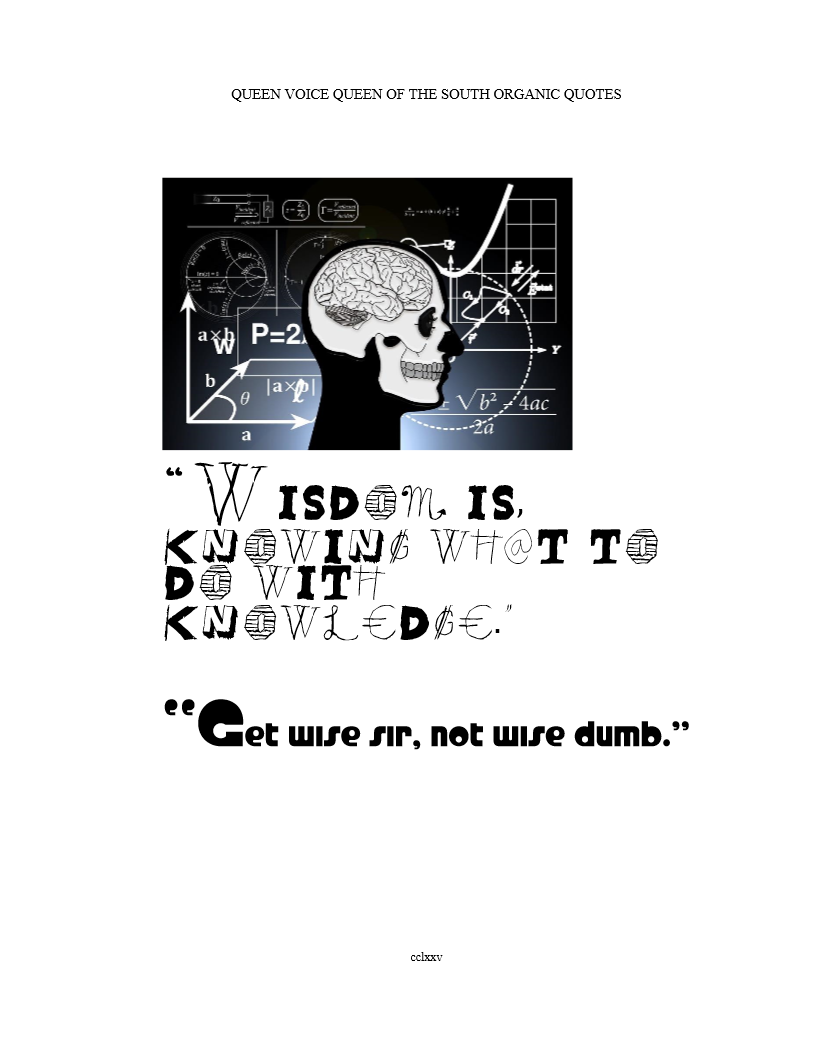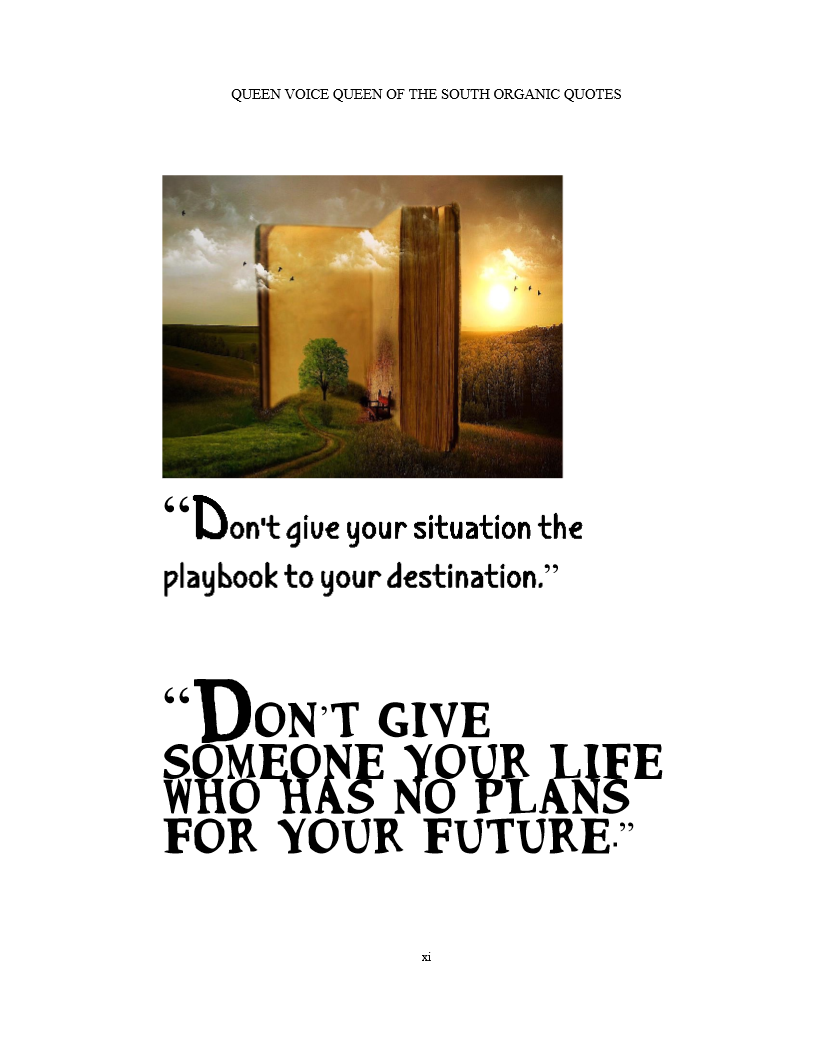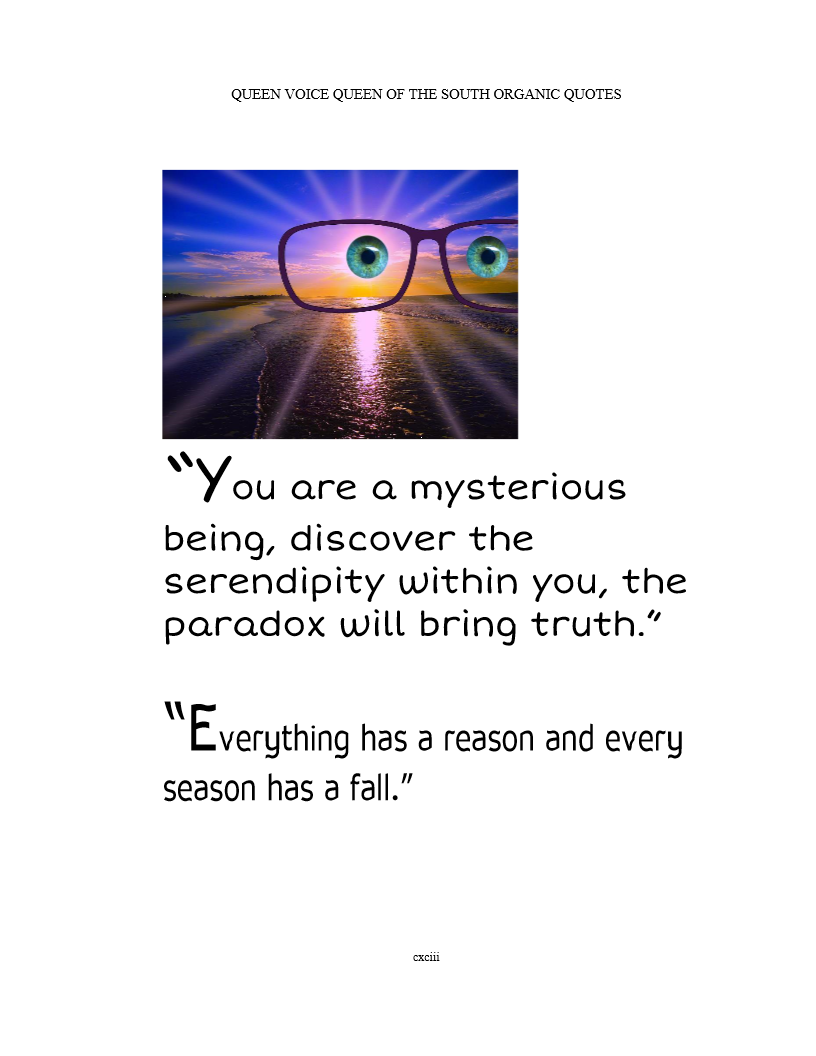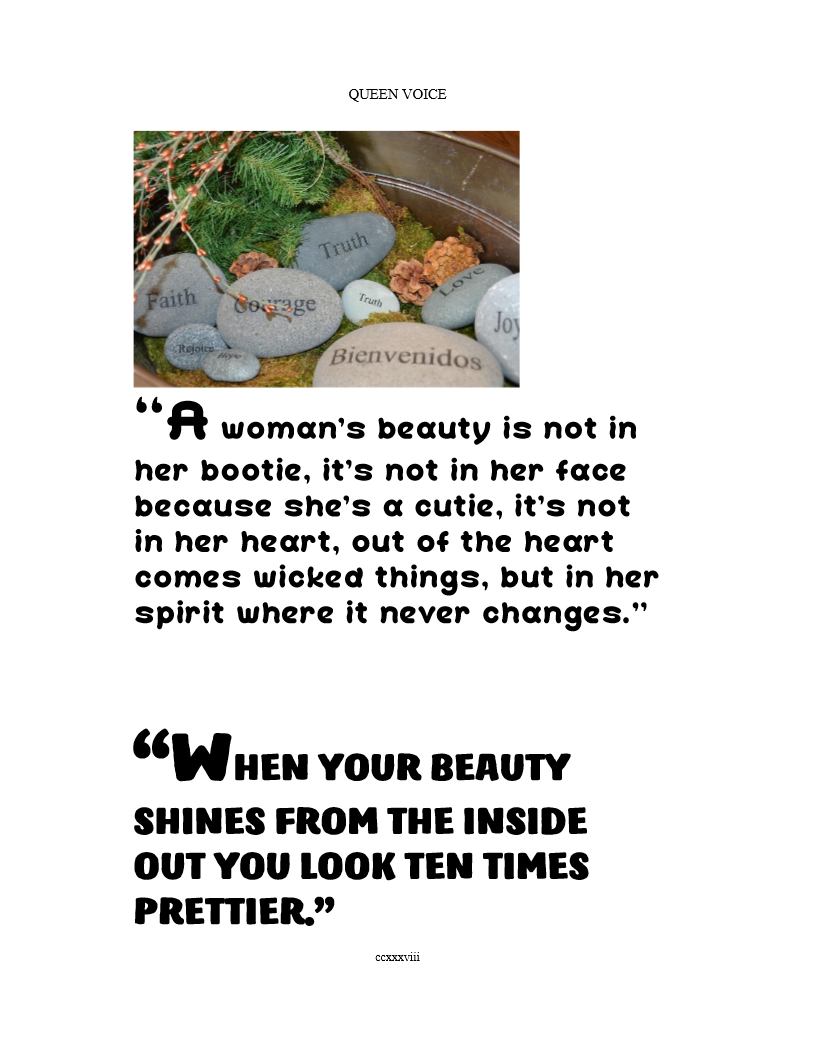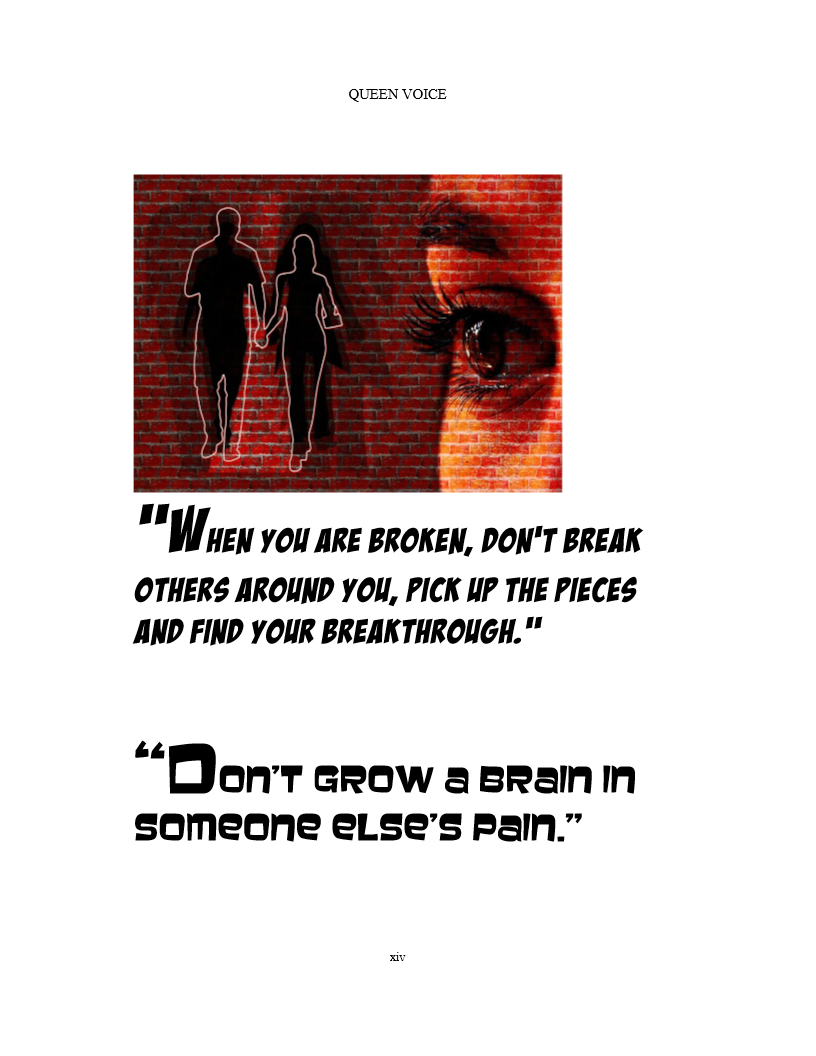 /